This bulky device is the Apple Newton MessagePad. Introduced in 1993, it was one of the first Personal Digital Assistant (PDA) devices -- indeed, that phrase was originally coined by Apple CEO John Sculley for the Newton.
The Newton was very ambitious for its time, featuring full Handwriting Recognition, plug-in memory cards, fax and email (with optional modem), IR communications, and a degree of intelligence we still have to see in later PDA's. For example: the user could write on the screen "Lunch with Jeff tomorrow", tap the Assist icon, and the Newton would interpret the phrase and open a meeting form already filled out with the last-accessed person named Jeff and tomorrow's date!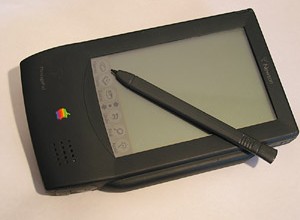 Click photo to enlarge


Unfortunately, the first version of the handwriting recognition engine was notoriously poor; mis-recognized phrases could be quite funny and led to many jokes (Q: How many Apple Newton users does it take to screw in a lightbulb? A: Only one, tharks to the extnq-producilve handwritling processcr). This led to a lot of bad publicity and impacted sales even after the bugs have been fixed in subsequent models. The Newton had (and still has today!) a loyal user base, but it never made it to the masses. When the Palm Pilot was introduced in 1996, Newton just couldn't compete, and in early 1998 Apple discontinued its production. The Palm was far less ambitious technologically, but it was cheaper, smaller, and simpler. Sometimes Vision isn't enough...