The Apollo 8 pictures set the record straight: no artist would ever draw a cloudless Earth again. But their true significance is that they suddenly put in perspective the fact that our seemingly endless, flat, solid world is not only round, not only far from being the center of the universe, but it is also small, vulnerable, outright improbable in this barren corner of a hostile universe. Even the continents that we so proudly inhabit are barely visible from space. Humanity, that self-styled "crown of creation", was at last forced to feel a a little humility -- and an appreciation of how lucky we are to have this planet at all. The Apollo photographs had forced us to replace our age-old arrogance with the humbler mindset that was to become central to the environmentalist world view.
Lastly, here (below, left) is the oldest picture in this batch: The Earth/Moon system, from "L'Enciclopedia dei Ragazzi", an Italian children's encyclopedia from around 1900 that I inherited from my grandmother. Once again it shows the large, cloudless Earth in much exaggerated continental relief.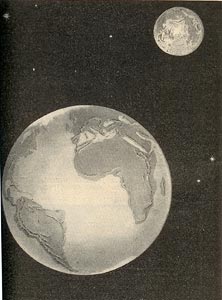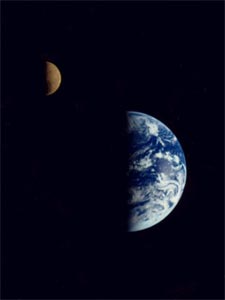 And to the right, the true image of this system, sent back by the Galileo spacecraft on December 22, 1992 (Apollo never went out far enough to capture both bodies at once). On the left, the moon, a lifeless ball of dead rock. And on the right, there, utterly unmistakable, our home. Unmistakable, because no human alive would fail to recognize the Earth by its rare hallmarks: a small blue planet, half shadow, half cloud swirls, embedded like a precious jewel in the black infinite void. Our fragile home world, the way it really is -– the way Apollo 8 taught us to see it.