Given the speed with which this allows you to calculate, it is small wonder that Gunter's rule was used well into the 19th century; in fact it was part of the standard equipment kit for ship navigation in the British fleet. This use is attested to by the many additional scales it carries. There are scales for doing trigonometry, such as those marked SIN , TAN and SEC, and then there are more specialized scales for navigation at sea. For example, we see a scale marked M*L, which stands for "Miles of Longitude", giving the length of one degree of longitude at a given latitude; or S*R, the Sine of Rhumbs, which is the log of the sine of an angle given in rhumbs -- which are the standard compass points (N, NE, E, etc).
The more common Gunter was 2 feet long; the one in my collection, pictured here, is a shorter version at one foot. It was made in the 19th century by John Rabone & Son in Birmingham, and it is in exceptionally nice condition, clean and pleasant in its honey colored boxwood. As was usual it has brass plugs at commonly used points to prevent damage to the wood from the points of the dividers, and an interpolation scale on the back to allow measuring lengths with greater precision.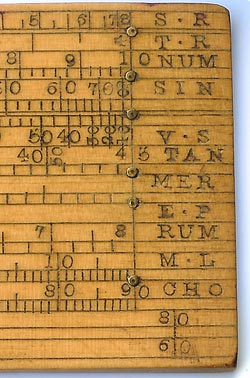 Note the brass plugs!