You can see the two springs, with the plastic cover removed, in the photo at the right.

Gerberís scale can be used to solve a large variety of problems involving proportions, interpolations and scaling for data plotted on paper.
At the most basic, imagine you want to measure distances on a map. Instead of measuring centimeters with a ruler and then multiplying by the mapís scale factor, you can stretch the spring to where its full 100 coils correspond to (say) a kilometer on the map, and then measure directly any distances on this map with no need to multiply anything. More advanced calculations on graphs, oscillograms and drawings might use the spring in conjunction with the three calibrated scales. The manual, which you can download from the link below, has many examples, from the simple to the complex.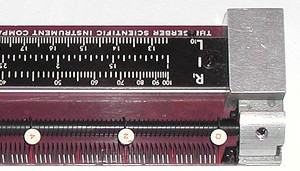 Click a photo to enlarge